Hoang Kim

[1]

, Nguyen Thi Truc Mai

[2]

, Nguyen Bach Mai

[3]

and Reinhardt Howeler

[4]
ABSTRACT


The project entitled "Vietnam Cassava Conservation and Sustainable Development" has been very successful, as indicated by the results of trials and demonstrations conducted in Tay Ninh, Dak Lak, Phu Yen and Dong Nai provinces, where farmers using the improved technologies and practices boosted cassava yields from 8.5 t/ha to 36 t/ha - a more than four fold increase.


During the period from 1975 to 2015 cassava has become the third most important food crop in Vietnam, after rice and maize. In 2013 the cassava area in Vietnam reached 544,300 ha, with a production of 9.74 million tonnes, and an average yield of 17.9 t/ha. Within Asia, Vietnam is now the third largest cassava producer, after Thailand and Indonesia. Between 1975 and 2000, cassava yields in the country ranged from 6 to 8 t/ha, and the crop was grown mainly for human food and animal feeding.
This changed markedly with the introduction by CIAT in 1988 of some high-yielding breeding lines and varieties from Thailand. Two varieties, Rayong 60 and KU 50, were selected for release in 1993 and 1995 and were named KM60 and KM94, respectively. During the 1990s and the first decade of the 21st Century, Vietnam produced several new cassava varieties, initially mainly selections from sexual seed from Thailand and CIAT, such as KM95-3, SM937-26, KM98-1, KM98-7, but our breeders also made crosses that resulted in the release of the latest new varieties: KM140, KM98-5, KM419 and others.
The breeding and adoption of new varieties as well as the development and adoption of more sustainable production practices resulted in a complete transformation of cassava, from a poor man's food crop to a highly profitable industrial crop.
More recently,
new advances in cassava cultivation techniques have focused on key demonstration sites in the provinces of Tay Ninh, Dak Lak and Phu Yen using mainly KM419 as a very promising short-duration cassava variety with a fresh root yield of about 35-55 t/ha (28% higher than KM94) and a starch content of about 28-31%. This and other new varieties, together with new advances in cassava cultivation techniques, have yielded spectacular results in trials organized in those three provinces.


The Vietnam National Cassava Program (VNCP) has introduced various methodologies, named "6M" and "10T", as well as Farmer Participatory Research (FPR), as collaborative experiences that helped to bring advanced technologies into production for millions of poor farmers. This included the s
election of
high-yielding

varieties

and

the

testing and selection by farmers of

locally

appropriate

technologies

.

Cassava in Vietnam has great

potential

but also faces big
challenges
.
At the national level, cassava has become one of the main export crops, which has provided for millions of smallholders an opportunity to increase their yields and improve their standard of living.


Key words:
Cassava, production, utilization, cultivation techniques,
achievements
,
lessons
and
challenges,
conservation, sustainable development,
Vietnam.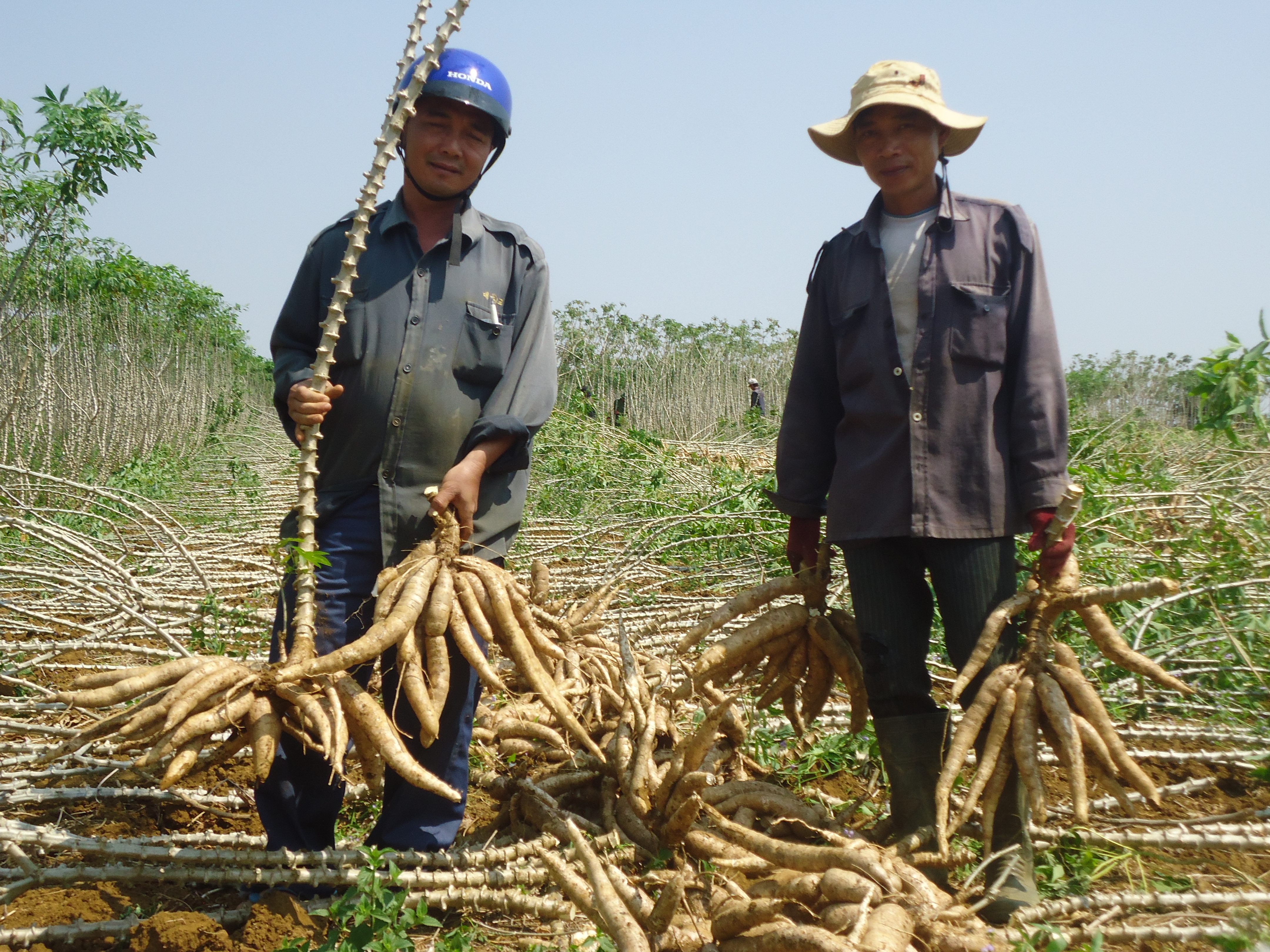 Báo Nông nghiệp Việt Nam: Giới thiệu 5 giống sắn mới
Tuyển chọn 4 giống sắn mới;
Thu hoạch sắn ở Phú Yên
Cassava in Vietnam: Save and Grow, PhuYen
Cassava in Vietnam: Save and Grow DakLak video 1 2, 3
Cassava in Vietnam: Save and Grow, Tay Ninh, video 1
---